D'Arcy McGee International Forum 2018 – a photographic review
December 20, 2018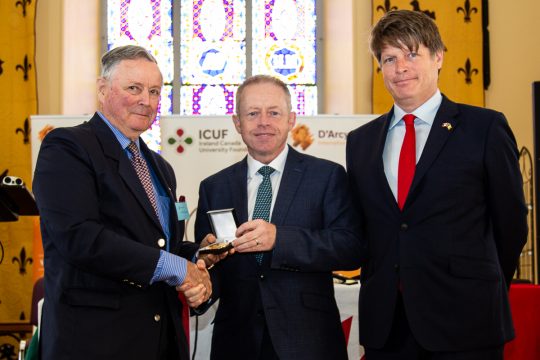 August 15th – 17th saw a wonderful lineup of speakers and guests come to Carlingford, to take part in the 2018 D'Arcy McGee International Forum. ICUF would like to thank all of the people who made this possible – the volunteers, the team at the Heritage Trust, our generous sponsors and partners (Air Canada, DCU, Think Research, DKIT and the Governments of Canada and Ireland), and particularly of course, thanks to all our speakers, a full list of which can be found here.
Below is a selection of photographs from the event, a wider selection can be found here.
The Forum was opened by H.E. Kevin Vickers, Ambassdor of Canada to Ireland
***
Jane Urquhart O.C. gave the James M. Flaherty Lecture
***
Dr. Desmond Green (centre) chairing the a panel on "the Shared Imagination"
***
Dr. Una Monahgan, Cambridge University Research Fellow
***
Linda Ervine, Turas Irish-Language Project, East Belfast Mission
***
Professor Brian Mac Craith, President, Dublin City University, chairing the 'Perspectives on Reconciliation' Panel
***
Mohawk Grand Chief Joseph Tokwiro Norton of Kahnawà:ke, Turtle Island
*****
Professor Vianne Timmons, President of the Univeristy of Regina
*****
The Newport Players perform Anthony Russell's Play – The Trial of D'Arcy McGee!
*****
Minister Christine Elliott MPP, chairing the "Female empowerment in the centenary of women's suffrage" panel
***
Senator Alice-Mary Higgins
***
James Maloney MP, Chair of Canada Ireland Parliamentary Friendship Group, chairing 'Perspectives on Borders, Identity and conflict' panel
***
Senator Ian Marshall
***
Prof. John Kelly and Anthony Russell
***
Grand Chief Joseph Norton & James Kelly CEO ICUF & Director of the Forum
***
Sibéal Ní Chasaide and Odhran O'Casaide at the Banquet
***
***
***
***
***
David Hanna of the Altnaveigh Pipers
***
***
Tommy Fegan closing 2018 proceedings
***