Dobbin Atlantic Scholar Report – Bioeconomy governance: a comparative between Ireland and Nova Scotia
October 30, 2017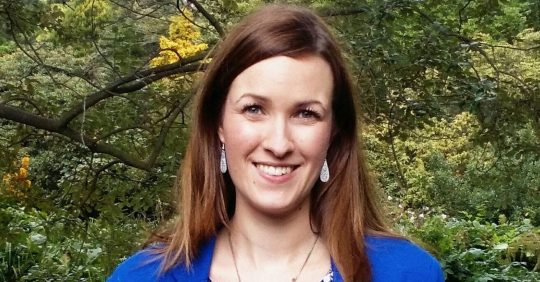 Dobbin Atlantic Scholarship
Visit Report 2017
Dr. Laura Devaney, Faculty of Agriculture, Dalhousie University, Nova Scotia
Name of home institution: Teagasc
Name of university visited: Rural Research Centre, Department of Business and Social Sciences, Faculty of Agriculture, Dalhousie University, Nova Scotia, Canada
Title of Research: Bioeconomy governance: a comparative between Ireland and Nova Scotia
Description of academic field: environmental geography, sustainable futures, policy
Visit Details
Reflecting on my Dobbin Atlantic Scholarship, I cannot speak more highly of the opportunity it afforded me to spend three productive, fruitful and enjoyable weeks in Atlantic Canada. I arrived in Truro, Nova Scotia on the 1st April 2017 and was immediately struck by the kind and welcoming nature of both my academic colleagues and the wider community. During my time on the scholarship, I not only forged academic connections and professional collaborations, but engaged in friendships and social events that brought my experience much further beyond a research visit. For this, I am truly thankful to the Ireland Canada University Foundation for its support and my colleagues at Teagasc and Dalhousie University for facilitating this visit.
Research and development conducted
I engaged in multiple and varied activities throughout my scholarship period, with thanks to my enthusiastic and inclusive hosts. In the first week, this included presenting a guest lecture on the bioeconomy as part of the "Ruminate" seminar series to approximately 30 graduate students and professors; participating in two panel discussions within the Dalhousie undergraduate teaching programme; and contributing to a researchers' roundtable with the Council of Leaders from the Nova Scotia Federation of Agriculture. The knowledge, networking opportunities and experience gleaned from these activities was significant, not only connecting me with researchers, staff and students across the diverse Faculty of Agriculture but key commodity representatives from across the province. This facilitated an unparalleled insight into bioeconomy challenges and opportunities locally as well as wider resource development plans and future directions in Nova Scotia. All of my presentations were attended by diverse audience groups while at the Researcher Roundtable, I was also given the floor to highlight relevant lessons from bioeconomy development in Ireland. Slides from my presentations were circulated widely across the college (attached for reference), including to the Dean of the Faculty of Agriculture and Department Chair of Business and Social Sciences.
In my second week, I was able to focus more time on my proposed research task, engaging with literature, policy and website analyses to establish the state of play of the Canadian bioeconomy at a federal level. This analysis was structured utilising a SWOT technique, assessing for the strengths, weaknesses, opportunities and threats associated with bioeconomy development and governance. I continued to meet with staff, students and academics across the campus in this week, with highlights including a brainstorming session with undergraduate students advising them on further education and career opportunities (including courses and research Masters/PhDs in Ireland), an introduction at the Dalhousie Faculty Council meeting and attendance at a graduate's Admission to Candidacy in an area pertinent to Canadian bioeconomy development.
Research activities in my third, and final, week centred on the development of the bioeconomy at the provincial level of Nova Scotia. Given the diversity of resource bases, technological capacities and consumer markets across Canada, this focus on the provincial scale in Atlantic Canada was essential to determine opportunities and barriers to bioeconomy development specific to the local context. Again, this research adopted the SWOT technique with a more detailed analysis of websites, literature and policies relevant to Nova Scotian agriculture, food, forestry, marine, business, research and innovation sectors. In my final week, I also participated in a Department meeting of the Rural Research Centre engaging with colleagues on the future development of the institute, rural studies research and a new BA undergraduate course. As part of this meeting, I was again afforded the opportunity to discuss my work on the Irish bioeconomy, linking in via Skype with a professor of sociology in the Halifax campus of Dalhousie. I also continued my meetings with academics across disciplinary areas in my final week, including a discussion on future collaborations with my host academics as well as a tour of the Plant Sciences Department as applicable to the bioeconomy.
Experimental procedures and results
As indicated above, detailed literature, policy and website analyses were undertaken within the context of a SWOT analysis to assess the development and governance of the bioeconomy in Nova Scotia. Results of my research point to the urgent need for an objective federal bioeconomy strategy in Canada (the current framework document is industry-led) as well as a more tailored strategy and supports for bioeconomy development in Nova Scotia. There is a need to move beyond sectoral silos, both practically and politically, for holistic bioeconomy development instead of agriculture, food, forestry, marine, chemical, material and energy industries being governed independently of one another. The language, and opportunities presented by, holistic bioeconomy development have yet to infiltrate governmental consciousness in Nova Scotia however. Perhaps linked to the fact that electricity generation contributes the most greenhouse gases in Nova Scotia, bioeconomy-related research, policy and practice in the province was also found to focus predominantly on biofuels and bioenergy. In keeping with European best practice and the application of the cascading principle, there is need to move beyond the use of biomass solely for energy creation to instead extract higher value food, pharmaceutical and chemical uses with residuals of these processes only then being used for energy creation. This was a novel way of thinking for many of my colleagues in Dalhousie but something that resonated strongly once explained. To action this thinking, governing stakeholders must move beyond linear value chain thinking to instead connect up sectors, actors and applications in a more coherent bioeconomy value web. The importance of a comprehensive and supportive over-arching federal and provincial bioeconomy strategy must not be underestimated in this context to de-risk opportunities for farmers, foresters, the fishing community, industry processors, SMEs, entrepreneurs, investors, regulators, funding bodies and researchers operating in this space.
While some thematic areas related to bioeconomy challenges and opportunities are similar to Ireland, it is essential that any results, understandings, research and policy are geographically tailored to the unique landscapes, resources, technological capacities, regulatory environments and support frameworks of a given place. To undertake comparative work between the Irish and Nova Scotian bioeconomy in this context has been extremely rewarding, sparking new thinking, research and collaborations on both sides of the Atlantic.
Contacts established
Through the numerous networking opportunities afforded to me, I connected with a diverse range of stakeholders during my stay including:
Deborah Stiles and Dr. Kenneth Corscadden (my host academics)
Kathleen Kevany, Dr. Gregory Cameron and Dr. Steven Dukeshire (academics of the Department of Business and Social Sciences Rural Research Centre)
Robert France, Dr. Derek Lynch, Dr. Raj Lada Dr. VasanthaRupasinghe and Dr. Nancy Pitts (all of the Department of Plant, Food and Environmental Sciences)
Commodity stakeholders at the Council of Leaders Roundtable (particularly of the dairy, organic meat, horticulture, wine and Christmas tree sectors)
Karen Foster, Canada Research Chair in Sustainable Rural Futures for Atlantic Canada, Department of Sociology and Social Anthropology (Halifax campus)
In addition, beyond these personal relationships forged, I also introduced (via email) a number of Dalhousie staff members to Irish researchers across Teagasc, NUIG, UCC and Trinity College Dublin to facilitate further collaborations and contact between institutions of Ireland and Atlantic Canada.
Future Continuing Collaboration (opportunities/plans)
My research and experience was enthusiastically received by all of those that I came into contact with during my Dobbin Atlantic Scholarship with a number of plans put in place to further research relationships and collaborations into the future. Highlights include:
A co-authored peer-review paper based on my research conducted at Dalhousie drawing a comparison and sharing international learnings between the Irish and Nova Scotian bioeconomies (co-authors planning to contribute include Dr. Deborah Stiles, Dr. Kathleen Kevany and Dr. Kenneth Corscadden of Dalhousie and Dr. Maeve Henchion of Teagasc)
Potential for a radio interview related to the publication of this paper, with CBC NS and CBC via the national programming both mentioned as avenues to achieve this
An invitation to contribute two chapters to a new book inspired by my work on the bioeconomy and its connection to the ongoing research at Dalhousie. Dr. Robert France has already drafted a proposal for this book, provisionally entitled "Bioeconomic Perspectives in Rural Revitalization" and is due to meet with publishers to progress plans in June.
Ongoing communication and input regarding the future of the Rural Research Centre, its education and research remit with plans to review material for their upcoming website to provide an objective angle on proceedings.
Future participation in the Rural Policy Learning Commons (RPLC) network of Canada, having subscribed as a member during my time in Dalhousie (Dr. Kathleen Kevany is a Team Lead for the RPLC Governance Network) and with potential to attend, and speak at, an RPLC conference in British Columbia later this year.
Wider communication and follow-up with the extensive network of colleagues established during my time in Dalhousie as appropriate and agreed before my departure.
Conclusion
Overall, my time spent on the Dobbin Atlantic Scholarship represented an extremely rewarding and fruitful experience both personally and professionally. I was overwhelmed with the positive reception I received, with the abundant interactions with Dalhousie faculty, graduates, students and the wider community ensuring that I settled into, and truly experienced, life in Nova Scotia. Beyond the positive professional collaborations and productive research conducted, I was incorporated more broadly into the Truro community, being hosted for dinner at countless houses and attending social events, meditation classes, the local farmers market and Easter celebrations beyond the walls of the University. The level of inclusion, both professionally and socially, far exceeded my expectations and led to a scholarship that incorporated a much wider international, culturally enriching and personal learning experience. As agreed with my hosts and connections, it is only the beginning of positive future interactions on the important and politically topical issue of the global bioeconomy.